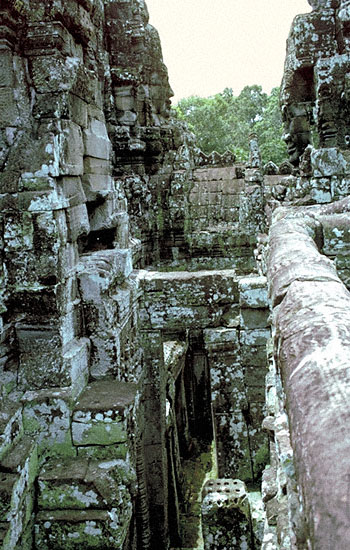 PREAH KHAN / Ta Phrom Temples -CAMBODIA The city sheltered 10.000 persons, 1000 dancers
and one Sanscrit's school. Originally it was a Buddhist convent whose Buddha's representations were destroyed by Brahmanes ( Indian priests) and replaced by representations Hindus, (A single Bouddha representationstayed). To arrive in the center of the temple, a row of galleries and doors which become more and more low has measure that one approaches the centre (to show
his respect). In the center, a stone, big Stuppa Bouddhiste which was brought in the XVth century. There're small holes in all the walls in the center of the building. Originally, in every hole was encased some gold anddiamonds, one says that all this was taken and resold by the Red Khmers. Magnificent sculptures of the gods , like Vishnu and Lakshmi (his wife), and the place of 3 Lingams (sex of the Gods), circle on the base for Shiva, square for Brahma and octagonal for Vishnu. One finds as in Ta Phrom, a luxuriant vegetation which resumed its rights.
FOR INEXPENSIVE STOCK PHOTOGRAPHY OF ANTHROPOLOGY ARCHAEOLOGY and ART; GO TO: BACK
WWW.ANTHROARCHEART.ORG Copyright © 2016 Philip Baird ALL RIGHTS RESERVED
This Image was Saved at LOW RESOLUTION; ORDER the Much LARGER-More DETAILED ~4.5/18/45+ MB ROYALTY FREE VERSIONS (AS LOW AS $5.00 each!)
DOWNLOAD OR ANY IMAGE USE WITHOUT FULL PAYMENT AND PERMISSION IS PROHIBITED.
Permission to Download--Copyright Notice--Use License--About Royalty Free--About Digital Images