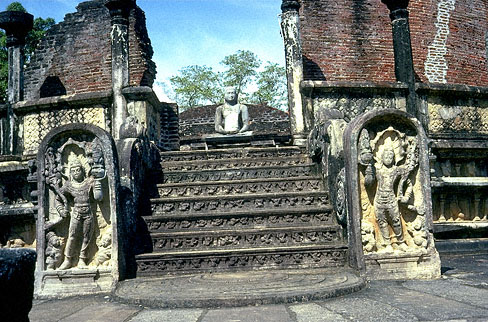 POLONNARUWA; Sri Lanka, dating from the 1100's remnants of
Buddhist monastery. VATADAGE HOUSE, circular and steps carved with birds,
horses, elephants. Four seated Buddha's one each cardinal direction w Guardians.
FOR STOCK PHOTOS ANTHROPOLOGY ARCHEOLOGY and ART; GO TO: BACK
WWW.ANTHROARCHEART.ORG Copyright © 2016 Philip Baird ALL RIGHTS RESERVED
This Image was Saved at LOW RESOLUTION; ORDER the Much LARGER-More DETAILED ~4.5/18/45+ MB ROYALTY FREE VERSIONS (AS LOW AS $5.00 each!)
DOWNLOAD OR ANY IMAGE USE WITHOUT FULL PAYMENT AND PERMISSION IS PROHIBITED.
Permission to Download--Copyright Notice--Use License--About Royalty Free--About Digital Images